Retaining & Sitting Walls
Serving both aesthetic and functional purposes, walls are an essential element in nearly every Outdoor Living Space. The wide variety of materials help to define the color, texture and feel of the space.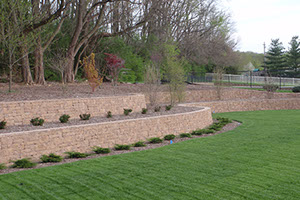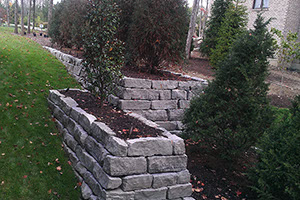 Concrete Wall Systems
Unmatched structural integrity is a hallmark of the interlocking concrete wall systems. Beautiful forms and durability are great benefits from the versatility of these walls.
Natural Stone Walls
A great selection for a naturalized setting and to help create a more rustic look for your Outdoor Living Space. The use of natural stone in your outdoor living space makes a statement of timeless style. We use a wide variety of natural stone material including: Cut or random shape flagstone (limestone and slate), Imported Travertine, Basalt, Onyx and others, Natural stone veneer on vertical wall surfaces, and Natural stone walls.